We are now accepting APPLICATIONS for the 2023 show season -
which is the 28th year of the show!



APPLY TODAY! The link to the FREE application pdf is at the bottom of this page!
We will be sending Invitations to Exhibit and Show Contracts out for the 2023 show in early January with the Contract and a 25% deposit due February 1, 2023. The 2020 Application will be edited to say 2021 but is the same application for an Invite for 2021.
We have 36 years of running shows (see below) and we like to keep our shows fresh, so we are always looking for new exhibitors to share with our attendees. We select a variety of exhibitors from seasoned professionals to up-and-coming artists & craftsmen who design and handcraft furniture, accessories and fine art.  Each show includes approximately 100 artists, craftsmen & students who want to show & sell their work, take orders, talk about commissions to the public and trade, and make connections with the media, colleagues, collectors, museum buyers and more.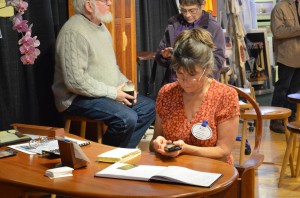 Our show is where CONNECTIONS are made!
"The Fine Furnishings Show is the centerpiece of my marketing plan. It is the only show I do. It has been a fantastic opportunity for me to build my brand amongst that elusive group of people who value handmade goods and appreciate everything that goes into the process of creating a piece of furniture. My best customers are ones I initially met through the show. I also really value the opportunity to network with fellow exhibitors who have so much talent and knowledge/experience they are happy to share."          Jon Peirce, Industrious Revolution, North Smithfield, RI

"The Fine Furnishings Show as introduced me, to not only individual clients, but corporations as well, leading to deeper relationships than just a sale."          Samir Dhamija, My Mez, North Providence, RI
Sell to past, current and new customers - take orders - talk about commissions!

Meet editors for possible stories & features
Make contacts for wholesale accounts
Mingle with exhibitors & share information
Enter to win Best in Show Awards
Our ATTENDEES are couples making household buying decisions!

Our show is open to both the public and trade, household & business decision makers interested in discovering & purchasing, ordering and/or commissioning items for themselves, their clients and their homes. The majority of our attendees are public attendees.  Our exhibitors treat the shows as their annual "showroom" inviting past, current and prospective buyers to the show to  see their newest work, get feedback and discuss their needs for furniture, accessories and art for their home.
We make it EASY for our EXHIBITORS! We have 36 years of show management experience!

The Show is INVITATIONAL. This means once you apply and are accepted you do not need to apply again each year.  (Provided you maintain the same quality of work as when you were accepted.)
The show was created by, and has been run by Karla Holmes Little for 24 years. The first show was 1996 and the 2020 show will be the 25th year. In addition, Little ran the Newport International Boat Show for 15 shows from 1987-2001.
ALL BOOTHS INCLUDE THE FOLLOWING:
Carpet, pipe/drape, electrical outlet, small booth sign, free parking, free trailer parking, some storage
Show Directory listing & color photo, website listing & photo, year 'round referrals, Facebook postings.
Exhibitor Welcome Packet, exhibitor badges, comp tickets for clients, free marketing materials, pr template.
A year of show services, connections, help, advice and more.
2023 BOOTH SIZES, TYPES, PRICES & PAYMENT PLANS

3x10 Shallow Booth $450
5x10 $675, 5x10 corner $775
5x20 or 10x10 $1150, 5X20 or 10x10 corner $1350
10x15 $1585, 10x20 $2050, 10x20 corner $2450
4 payments for show - Feb 1, May 1, July 1, Sept 1
check or credit cards - Visa, MC, Amex, Discover

We are MARKETING PARTNERS with our Exhibitors!
Exhibitors are encouraged and expected to market themselves before the show to let their clients, prospects and potential customers know they will be exhibiting. We provide many free marketing tools and materials to support your efforts.

---